Midnight Commander – Introduction and Installation in Debian 11
Midnight Commander – Introduction and Installation in Debian 11
The first adventure with the command line can turn out to be something very painful, especially when we see it for the first time. Users who exit Windows where they did everything with the click of a mouse may have a problem.
Midnight Commander is a free software file manager for Unix systems. Midnight Commander is similar in appearance to Norton Commander - a very similar user interface, the same keyboard shortcuts and function keys.
MC is a visual system shell, so that all operations can be performed without typing any commands, using only a semigraphic interface. It allows you to perform operations on files with the mouse, function keys (F1 - F12 on the keyboard) and the cursor. TUI Midnight Commander is divided into two panels, and each of them displays files or information about them, which simplifies the performance of operations, such as moving or copying files.
The entire user interface is built on the basis of the text mode, thanks to which it is possible to use the program, e.g.. using an SSH client, etc..
Installing Midnight Commander on Debian
To install the mentioned package, we need to use the command below.
We start the terminal and enter:
sudo apt install mc
Launching and using Midnight Commander
The application is completely in Polish, therefore it will make it much easier for people who do not know the English language. To run the application in the terminal, type mc and a window similar to the one presented below should appear: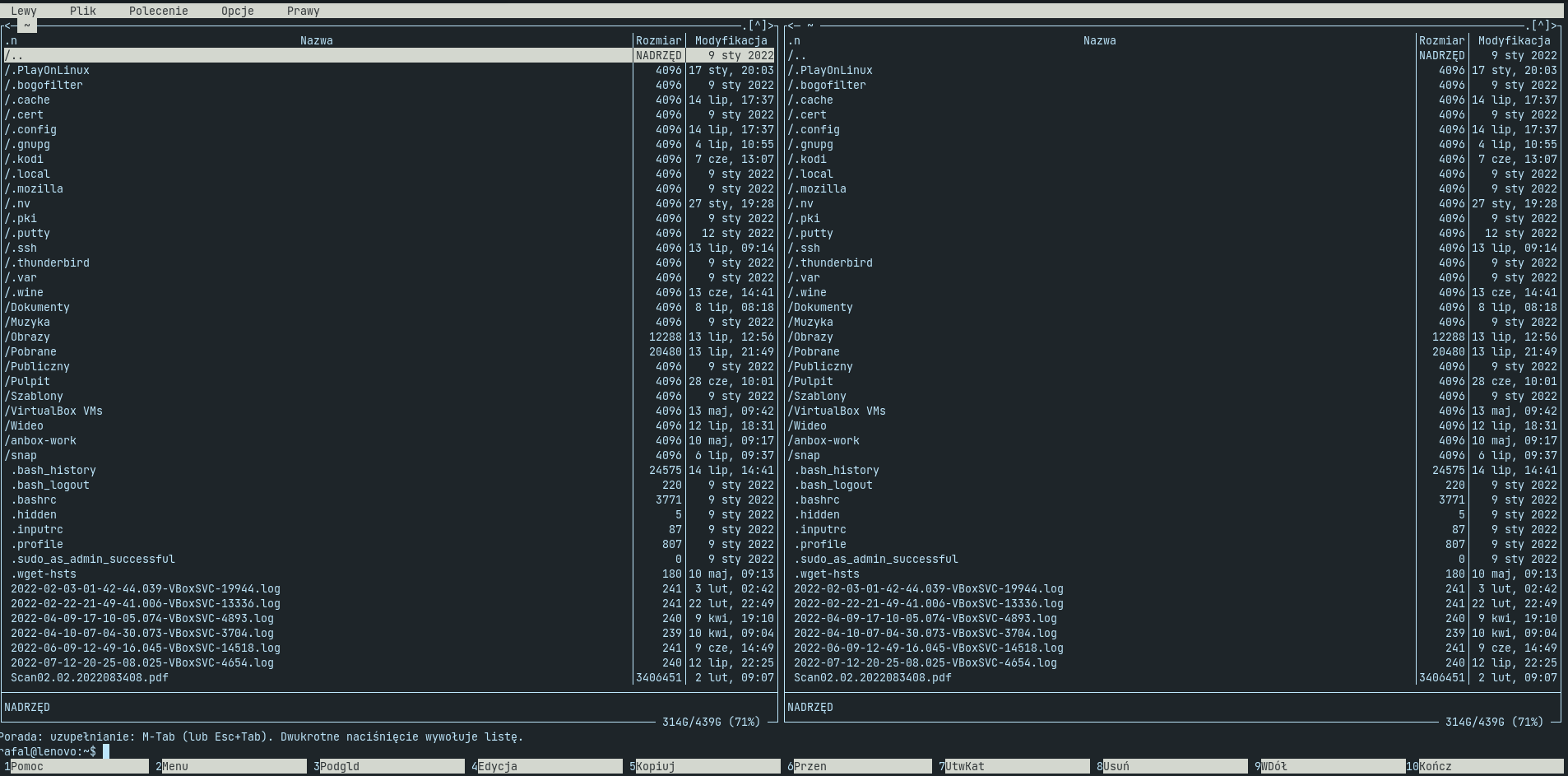 Functionality
preview and extraction of the contents of compressed archives
managing access rights to files and directories (We give read / write permissions by issuing a command, chown)
integrated lightweight editor called mcedit, offering syntax highlighting, automatic indentation, macros and simple collaboration with other tools
connecting to servers (FTP, FISH i SMB) with sharing their content in one of the selected windows; standard operations can be performed on the remote file system connected in this way (depending on the type of connection) - browsing, deleting and copying files or changing permissions.
You probably noticed, that the Midnight Commander is split into two identical parts. To move between them use the TAB button. Thanks to this, we can, for example, in the first part enter the location where the files and folders to be copied are located, and in the second, to the place where we want to copy this data.
CAUTION : work from the administrator level ( sudo, are ) in the mc program is risky and special care is recommended when copying, carrying, deleting and editing files, especially configuration files. Before each change of the configuration file, it is recommended to make a copy of it with a meaningful and meaningful name.